Library Board
Meetings are the third Monday each month at 6:00 pm.
There are five members elected to overlapping terms each May. Trustees serve according to Wisconsin State Statutes.
Trustees
President: Joni Wernlund
Vice President: Joan Heebink
Secretary and School Liasion: Jason Glampe
Treasurer: Claire Stein
Director at Large: Rochel Karlson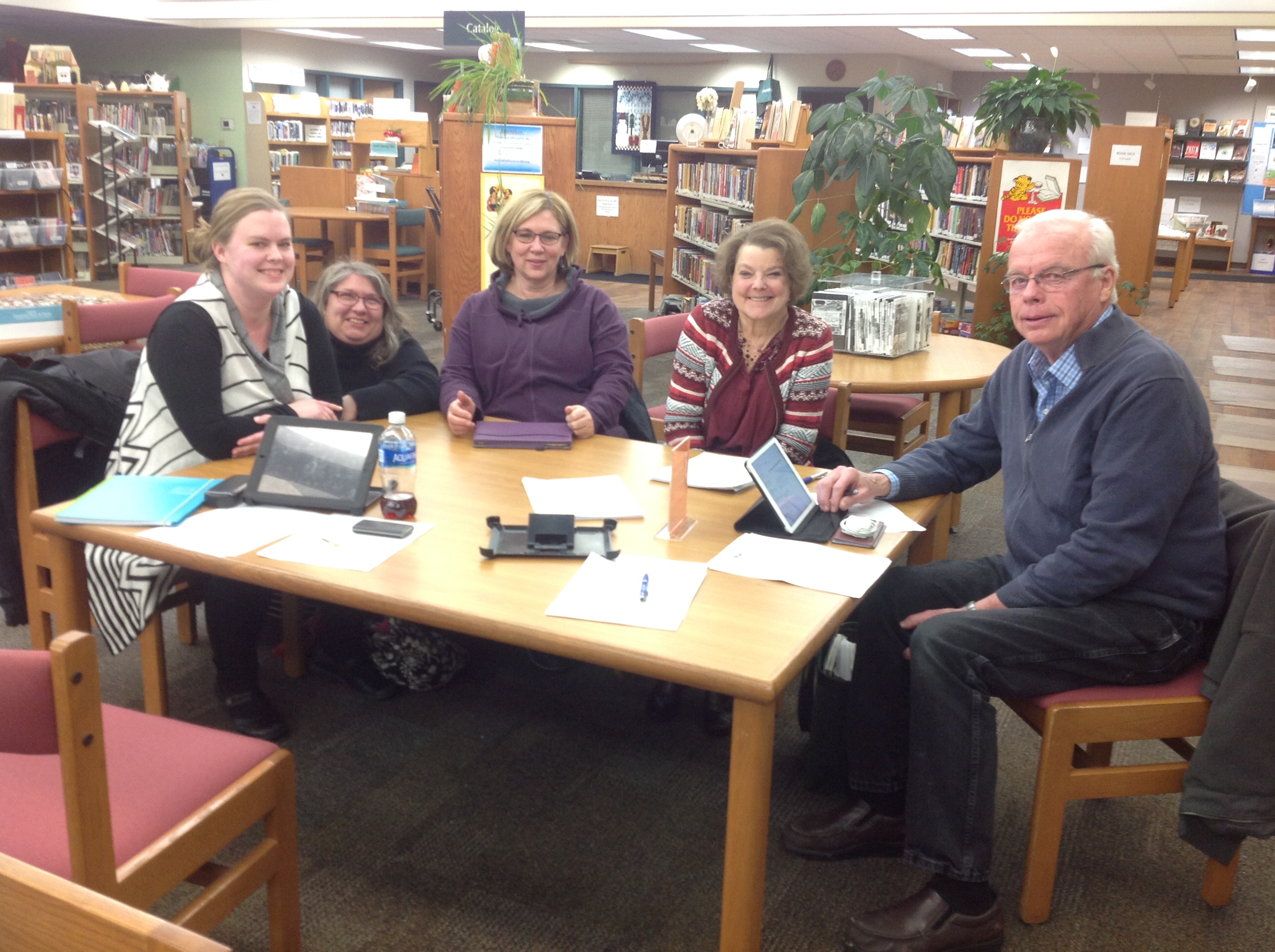 Baldwin Public Library
400 Cedar Street
P.O. Box 475
Baldwin, WI 54002
Phone 715-684-3813
11/11/20:   Due to the rapid spread of COVID cases in our area at this time, the library will close its doors to browsing for a while.  We are still here to help you, however!  We will bring items to you through curbside pick-up, will accept jobs for copying, faxing, and scanning.  You can email us documents to print out and pick up.  Please call us at 715-684-3813 or email us at:  baldwinlibrary@baldwinlibrary.org 
Our service hours will be:     
Mon/Wed/Fri  10:00 - 4:00
Tue/Thu   10:00 - 6:00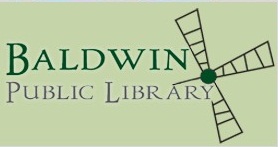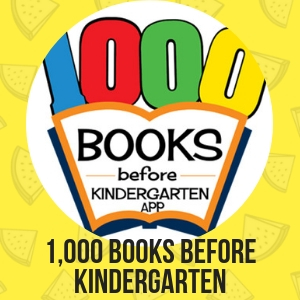 1,000 Books Before Kindergarten
Register at the library and get your tracking sheets.
Read to your baby or toddler.
It's never too early to start a child's love for books.
Read 3 books a day for 1 year = 1095.
After every 100 sheet is filled, bring it to the library and a balloon with your child's name will go up on our blue sky chart.
At the end, your child will get their photo taken for the newspaper and website, a certificate of accomplishment, and a free book!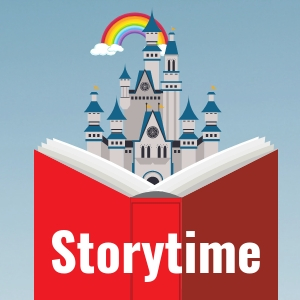 Storytime
NOTE: Because of public health concerns, there will be NO Storytime this fall and winter, sorry. Look for online versions soon.  
Normally September-May, no registration required, cancelled if school is cancelled
Pre-school Class, ages 3-5
Tuesdays @10am
stories, songs, crafts, plays
45 minutes, without parents
Lap-sit Class, ages 0-3
Tuesdays @10am
simple stories, lots of actions and songs
children sit on the parent's lap 20 minutes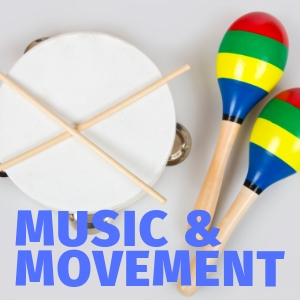 Music and Movement
NOTE: Because of public health concerns, there will be NO Music & Movement this fall and winter, sorry.  Look for online versions soon.  
Normally Fridays @ 10am, Sept-May
For babies to Pre-K children.
Join in a music and dance program. Try easy musical instruments, march and dance around the room, and do fun exercises and games.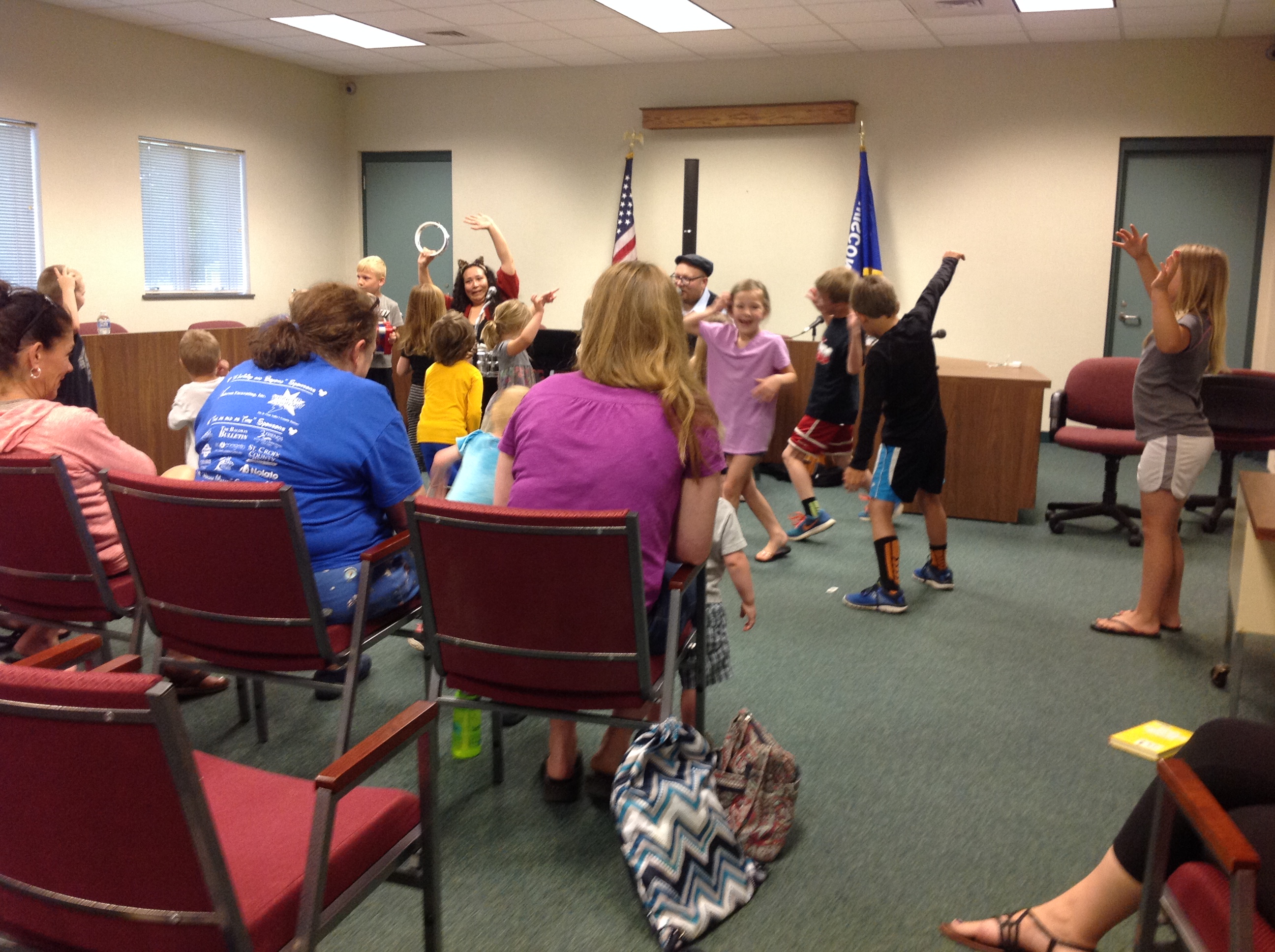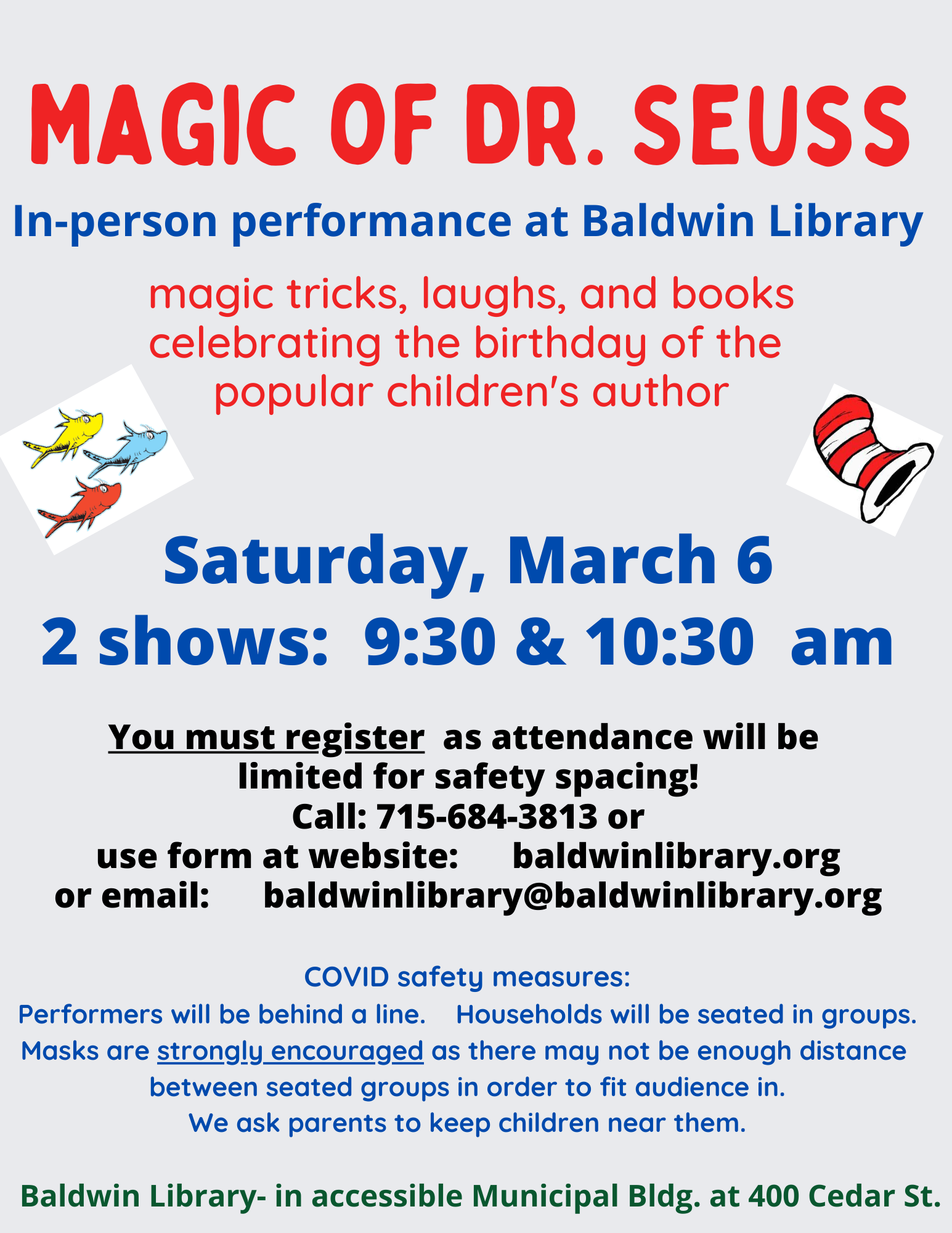 " The Magic of Dr. Seuss" a special in-person program of funny magic and popular books!
Saturday, March 6th
You MUST register ahead to reserve a time slot for safety seating.  Call 715-684-3813 or email: baldwinlibrary@baldwinlibrary.org, or use linked form: https://docs.google.com/forms/d/16zCgYk1FuVO-FhraWpFPYL7siwpR2JYMqVhRcMD_GUU/edit