We're opening our doors to browsing again March 1st! 
 New temporary hours starting 3/1:   Mon/Wed/Thurs/Fri: 12:00 – 4:00,    Tues. 2:00 – 6:00,   Sat. 10:00-12:00 
We need your help to stay open!  In order to keep the staff and public healthy and the workflow manageable so we don't have to close our doors again, we ask you to wear a mask, limit your time here, keep social distancing, and stay home if you are sick. Limit of 10 people inside at a time. Computer use is assured if you make an appointment. Thanks!
If you don't want to come inside, ask us for Curbside Pick-up or Locker use. There will no longer be a cart in the entryway but we are happy to meet you outside or in the lobby. 
Please call us with questions: 715-684-3813    
Explore the Digital Library
Resources included with your library card…
Baldwin Public Library
400 Cedar Street
P.O. Box 475
Baldwin, WI 54002
Phone 715-684-3813
11/11/20:   Due to the rapid spread of COVID cases in our area at this time, the library will close its doors to browsing for a while.  We are still here to help you, however!  We will bring items to you through curbside pick-up, will accept jobs for copying, faxing, and scanning.  You can email us documents to print out and pick up.  Please call us at 715-684-3813 or email us at:  baldwinlibrary@baldwinlibrary.org 
Our service hours will be:     
Mon/Wed/Fri  10:00 - 4:00
Tue/Thu   10:00 - 6:00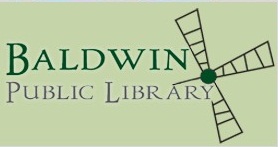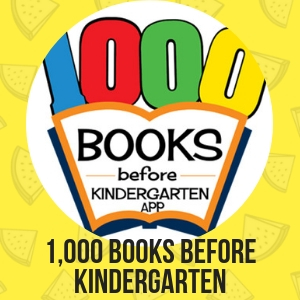 1,000 Books Before Kindergarten
Register at the library and get your tracking sheets.
Read to your baby or toddler.
It's never too early to start a child's love for books.
Read 3 books a day for 1 year = 1095.
After every 100 sheet is filled, bring it to the library and a balloon with your child's name will go up on our blue sky chart.
At the end, your child will get their photo taken for the newspaper and website, a certificate of accomplishment, and a free book!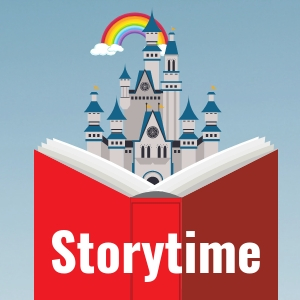 Storytime
NOTE: Because of public health concerns, there will be NO Storytime this fall and winter, sorry. Look for online versions soon.  
Normally September-May, no registration required, cancelled if school is cancelled
Pre-school Class, ages 3-5
Tuesdays @10am
stories, songs, crafts, plays
45 minutes, without parents
Lap-sit Class, ages 0-3
Tuesdays @10am
simple stories, lots of actions and songs
children sit on the parent's lap 20 minutes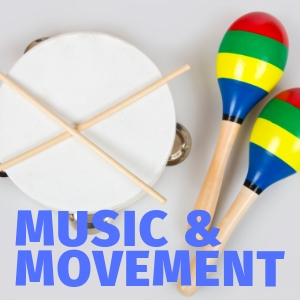 Music and Movement
NOTE: Because of public health concerns, there will be NO Music & Movement this fall and winter, sorry.  Look for online versions soon.  
Normally Fridays @ 10am, Sept-May
For babies to Pre-K children.
Join in a music and dance program. Try easy musical instruments, march and dance around the room, and do fun exercises and games.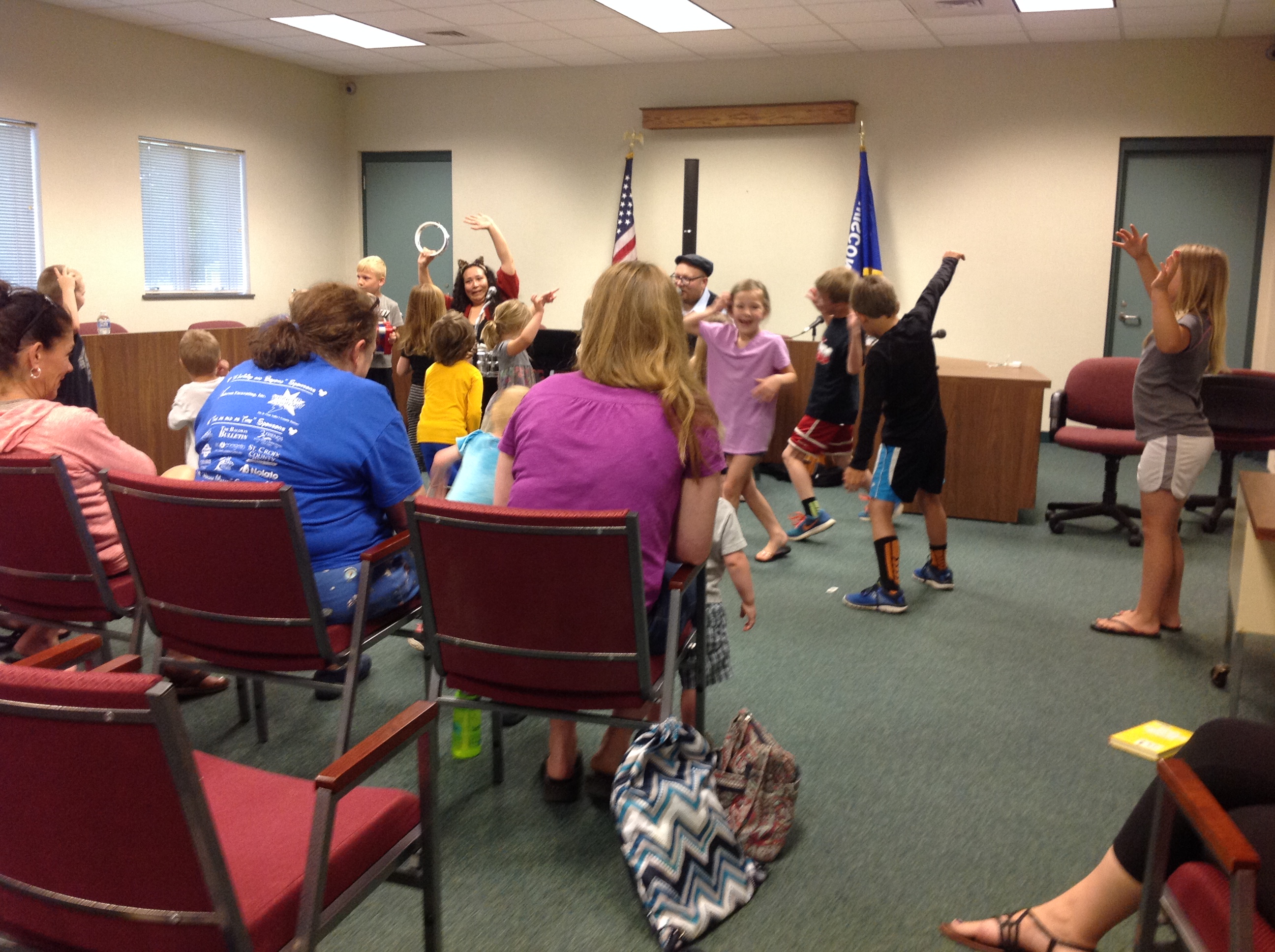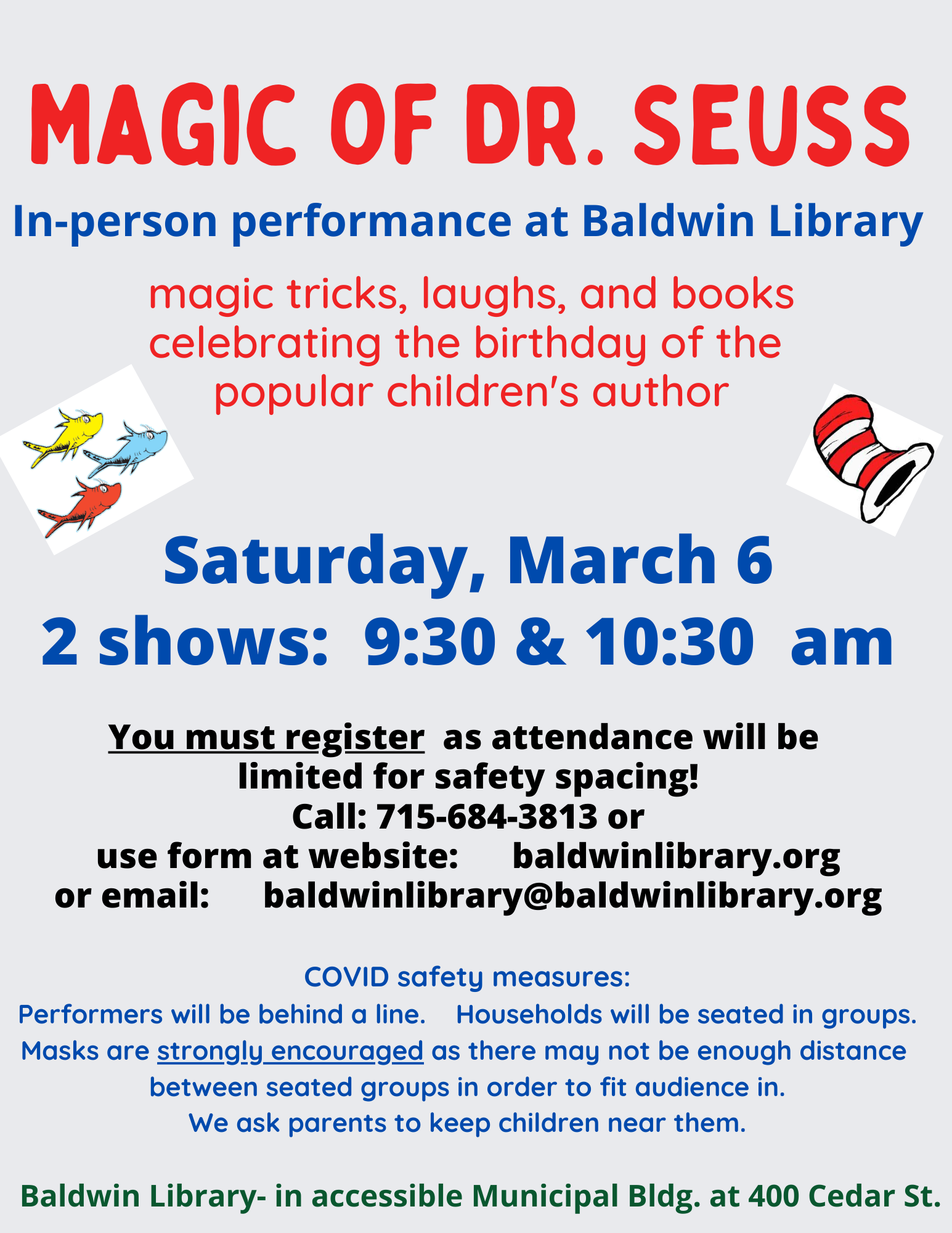 " The Magic of Dr. Seuss" a special in-person program of funny magic and popular books!
Saturday, March 6th
You MUST register ahead to reserve a time slot for safety seating.  Call 715-684-3813 or email: baldwinlibrary@baldwinlibrary.org, or use linked form: https://docs.google.com/forms/d/16zCgYk1FuVO-FhraWpFPYL7siwpR2JYMqVhRcMD_GUU/edit