Book Discussion 
A place for online book club discussion. 
Kya Clark was abandoned by her family at age ten and has survived on her own in the marsh that she calls home since then. But while she could have lived in solitude forever, the time comes when she yearns to be touched and loved. Drawn to two young men from town, who...
read more
The Baldwin Library Afternoon Book Club last met on March 12th to discuss the book, Little Faith by Nickolas Butler, about a rural Wisconsin family confronting the power and limitations of faith. Lyle Hovde is grateful to have his daughter, Shiloh, and grandson,...
read more
Baldwin Public Library
400 Cedar Street
P.O. Box 475
Baldwin, WI 54002
Phone 715-684-3813
Limited Hours
Mon, Wed, Fri 10:00-4:00pm
Tues & Thurs 2:00-6:00pm
Curbside still available.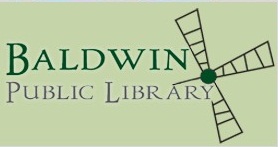 Library Mission Statement
We believe in the freedom to read, to learn, to discover and share ideas.
We provide free and equal access to books, programs, electronic media, and other resources as well as professional guidance in finding and using them.
We offer cultural and educational experiences through opportunities for lifelong learning, spaces to connect and engage, and by fostering a love of reading and commitment to literacy.
As our town grows and changes we will continue to enrich the quality of life here by maintaining a community center that is a vibrant and welcoming place.