Book Discussion 
A place for online book club discussion. 
The Baldwin Library Afternoon Book Club last met on March 12th to discuss the book, Little Faith by Nickolas Butler, about a rural Wisconsin family confronting the power and limitations of faith. Lyle Hovde is grateful to have his daughter, Shiloh, and grandson,...
read more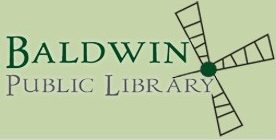 Baldwin Public Library
400 Cedar Street
P.O. Box 475
Baldwin, WI 54002-047
715-684-3813
Normal Hours
Mon, Wed, Fri: 9am - 6pm
Tues & Thurs: 9am - 7pm
Saturday: 9am - 1pm
Sunday: closed
LIBRARY IS CLOSED NOW FOR NATIONAL HEALTH EMERGENCY.  WATCH FOR NEWS.  TAKE CARE!